Reading Time:
5
minutes
This guide will answer all your queries about OET accepted countries in 2021:
The demand for medical professionals is at its highest and those who aspire to work in the United States in the medical industry have some great opportunities knocking on their doors. As per the recent update, The International Medical Graduates (IMG's) and nurses worldwide can now seek opportunities in the US Healthcare System using the English proficiency test – OET. United States is now one of the key OET accepted countries in 2021.
The healthcare system in the US demands more qualified and equipped medical professionals. The aspirants can take OET and with the right grades, can apply for reputed positions in the healthcare industry in the United States. OET is now formally recognized by the US Educational Commission for Foreign Medical Graduates, Foundation for Advancement of International Medical Education and Research (ECFMG®|FAIMER®), the Florida Board of Nursing, and the Oregon State Board of Nursing. There is a lot of confusion about which countries accept OET for immigration.
What is OET?
OET stands for Occupational English Test. The tests aim to evaluate the linguistic proficiency of medical professionals who aspire to render medical services in an English-speaking environment.
The course is an elaborative test that evaluates all four core aspects of the English language including listening, reading, writing, and speaking in context with the professional communication in the healthcare system.
The test results ensure that the aspirant has due command over the language and can communicate with the patients, colleagues, doctors, etc. As communication is the core of a successful healthcare system, the aspirants who qualify OET are considered eligible to take up medical professional jobs in healthcare facilities.
OET assessment structure: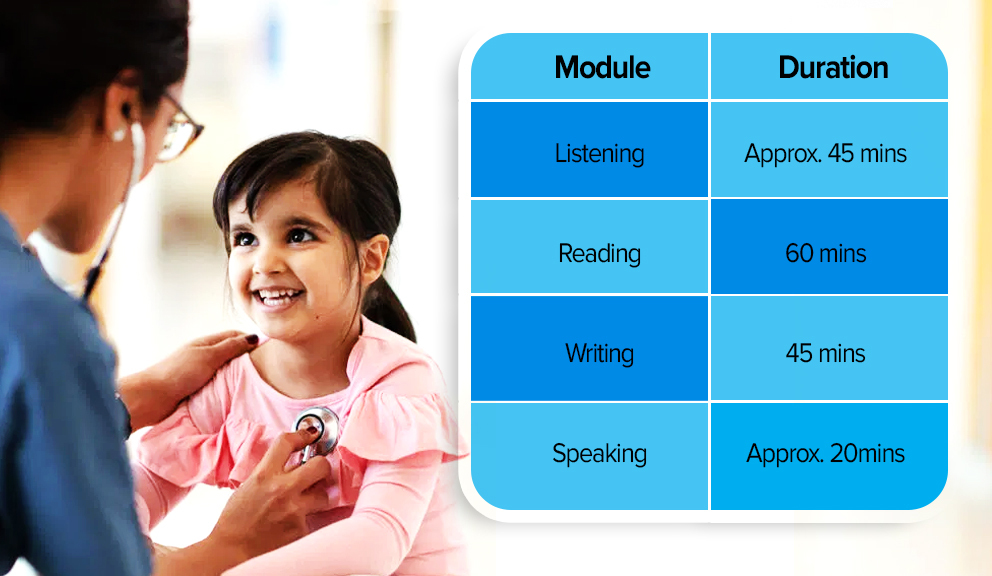 OET covers the four core language skills – Listening, Reading, Writing & Speaking
Listening: This segment is the same for all healthcare professionals and comprises a range of health-related spoken materials. The evaluating is approx. 45 minutes long.
Reading: The reading segment is also the same for all healthcare professionals. The ability to read and understand different types of text on health-related subjects is evaluated. This segment is 60 minutes long.
Writing: The writing segment is profession-specific and also based on workplace situations. The time allotted for this segment is 45 minutes.
Speaking: Another profession-specific segment with workplace situation-based evaluation. The speaking segment is allotted approx. 20 minutes.
Categories assessed under OET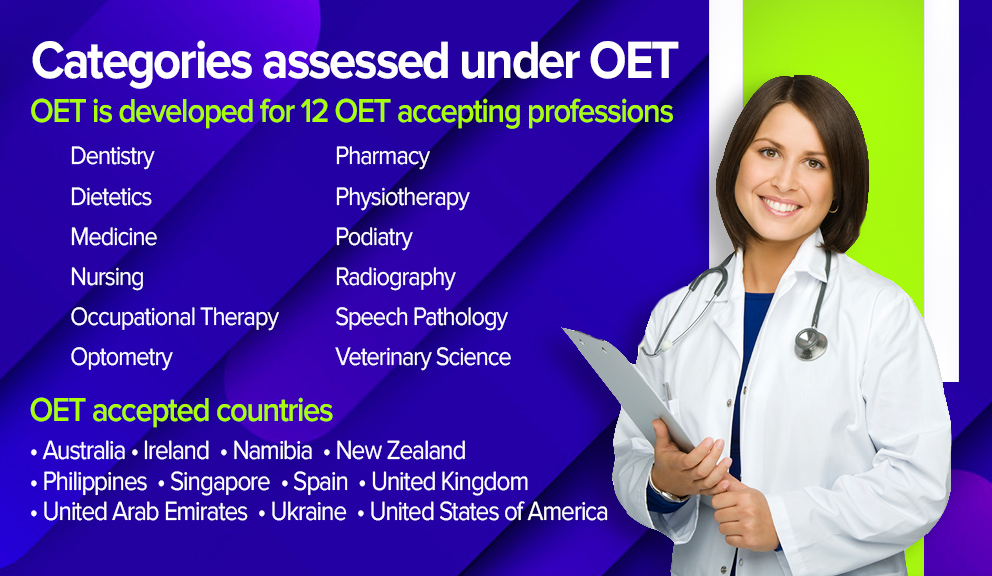 OET is developed for 12 OET accepting professions:
Dentistry
Dietetics
Medicine
Nursing
Occupational Therapy
Optometry
Pharmacy
Physiotherapy
Podiatry
Radiography
Speech Pathology
Veterinary Science
Grading Requirement for IMGs and Nurses
International Medical Graduates (IMGs) for Educational Commission for Foreign Medical Graduates (ECFMG) Certification must score a minimum of 350 (Grade B) on each of the four language skills measures of the Occupational English Test for Medicine: Listening, Reading, Writing, and Speaking.
For nurses applying to Oregon, it is a must to attain a minimum of 4 Grade Bs (minimum score of 350).
For nurses applying to licensure in Florida, it is a must to attain a 4 Grade C+s (minimum score of 300).
OET accepted countries
The total number of OET accepted countries is 11. Here is the list of OET accepted countries: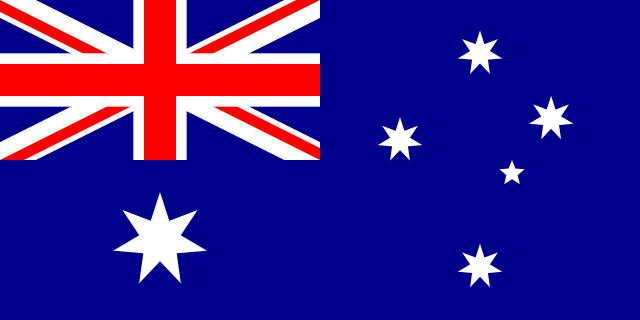 For Australia, Grade A or B are set by the Australian Health Care Councils/Boards/Agencies as the eligibility criteria. Medical professionals like Doctors/Nursing professionals/ Dentists/Occupational Therapists/Pharmacists/ Podiatrists and others are welcomed to work in the Australian healthcare system.
The OET grade eligibility criteria are lowered by the Nursing and Midwifery Board of Ireland (NMBI). The grades required to register & work as nurses and midwives in Ireland from B to a C+.
The Health Professions Councils of Namibia follows the general rule and the eligibility criteria are set at a minimum score of 350 out of 500/ B grade.
New Zealand is one of the leading OET accepted countries for nurses. The Nursing Council of New Zealand for OET also accepts Grade B which is a minimum score of 350 for each band.
The healthcare regulating agency accepts the score of a B grade in all OET assessment measures.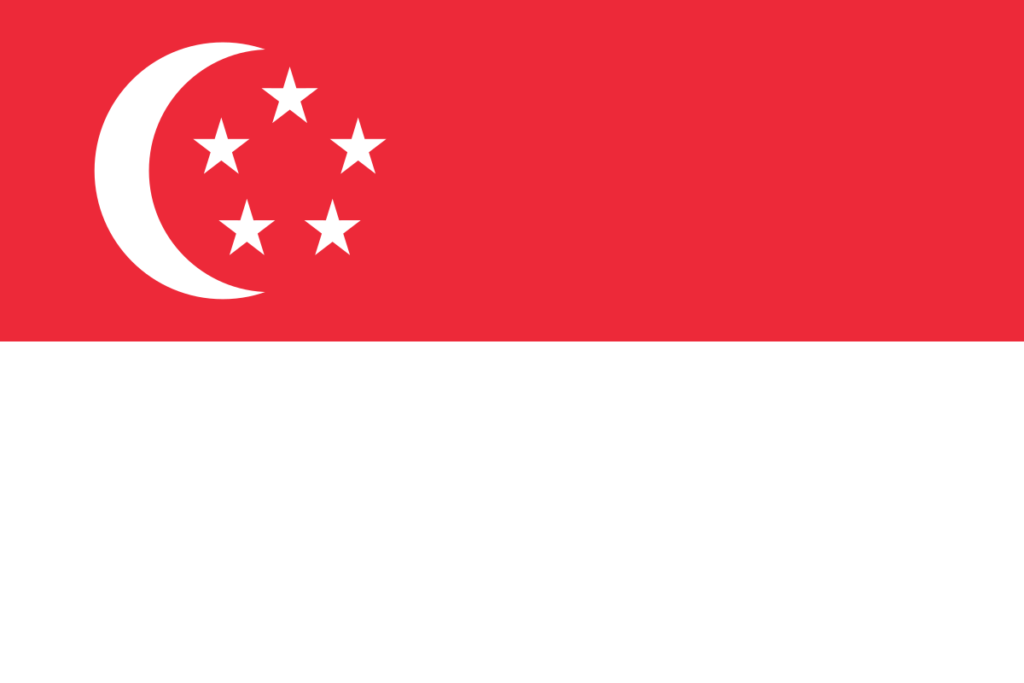 It is a must to register with an appropriate healthcare board in Singapore to work as a healthcare professional. The Singapore Medical Council requires Grade B in all four OET measures and the test must result must be achieved in the last 2 years.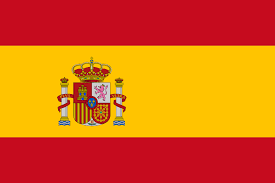 Under the Common European Framework of Reference grade levels B2, C1 and C2 are recognized. Spain is known for being one of the OET clubbing accepted countries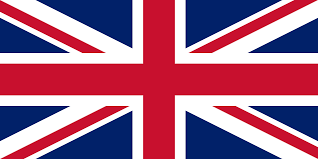 The Nursing and Midwifery Council, UK accepts a B grade in Listening, Reading, and Speaking and at least a C+ grade in writing. United Kingdom is one of the reputed OET c+ grade accepting countries.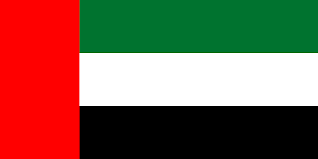 To register and work in the UAE, one must secure a B grade in all four modules. The IMGs and Nurses who appeared in OET Training in Dubai and scored the required OET grades are eligible to join work in the states of Florida and Oregon immediately.

Must score at least a Grade "C+" in all four measures to secure registration and work in Ukraine's healthcare system.
For more details on OET accepted countries in 2021 contact us at 9744-865-577
OET grades for different OET accepted countries
The table below offers OET score for health professionals in each country: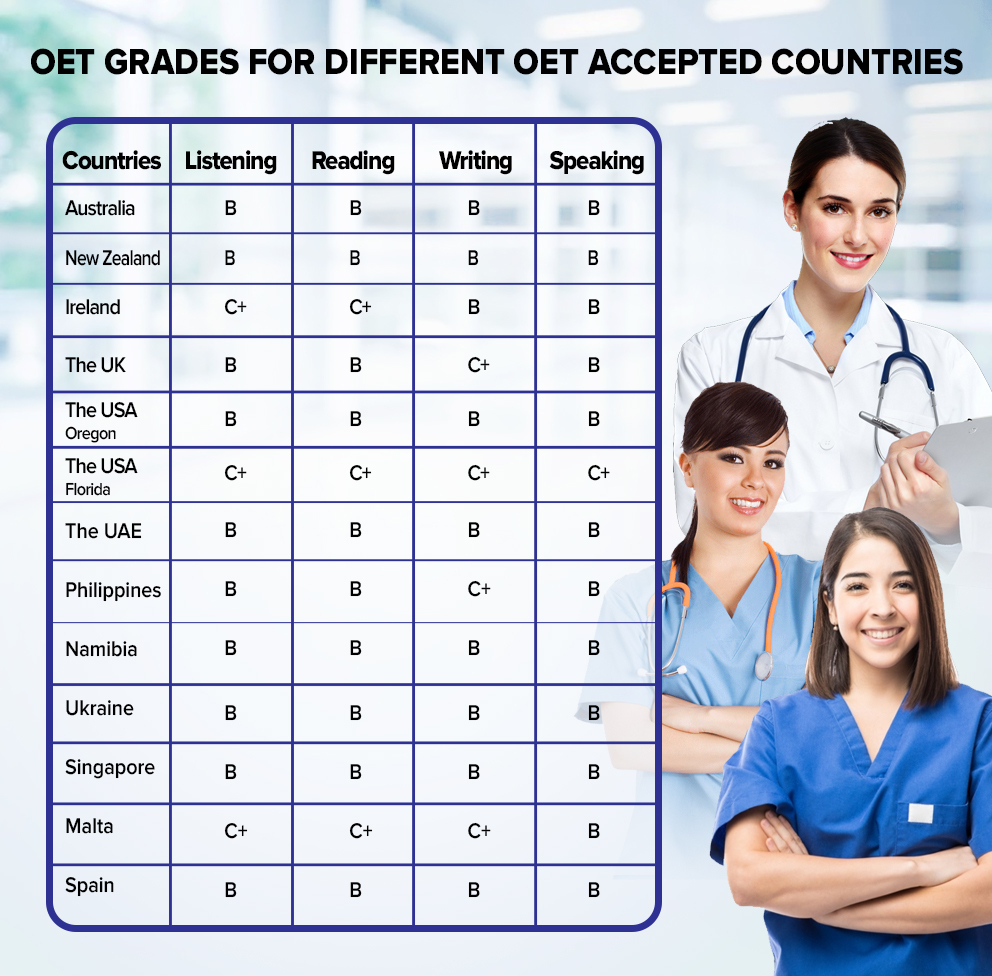 Reach us at info@lizzacademy.com to enquire about OET accepted countries 2021 and OET training registration-related queries.