Reading Time:
2
minutes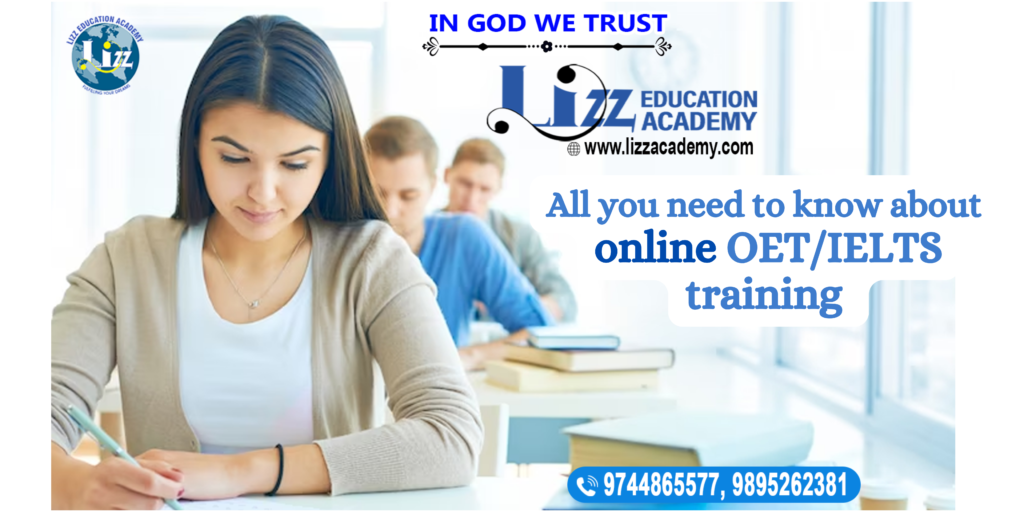 Online OET/IELTS training is still something that appears to be difficult for many candidates. Many of us still believe it is hard to pull together for any of these English exams with online training. At the same time, many others are convinced that free online videos are more than enough to improve our scores. However, we need to realise the truth. Given all the modern communicative facilities, online coaching is the most effective method of preparing for OET/IELTS test.
Well speaking from experience, We at Lizz academy offers the best Online OET/IELTS Coaching in Kerala. We have many features which makes them stand about the rest. Right now we do not have any client-deceiving offers but we do have displayable results. We have exclusive reading foundation pack, grammar pack and OET/IELTS mock tests which other institutions do not always possess. We have the best tutors in the industry. Our candidates have been able to crack their OET/IELTS exams in the first attempt itself. The management team is also very supportive and dedicated. Thanks to our MD who herself tries to maintain a constant communication with the students even during his busy schedule. These ore only some of the general reasons why I would recommend online training with Lizz Education Academy to every OET aspirants
You need to look for OET/IELTS Online Coaching that is both interactive and intensive. Lizz Academy's sessions strike the perfect balance of both. Handled by one of Kerala's first OET/IELTS training pioneers. Hence, the sessions are detailed and are finely calibrated to the needs of the learners. We always accept limited number of candidates to our online batches to ensure that individual needs are taken care of. This is one of the reasons why our OET/IELTS online sessions are consistently highly rated and reviewed. To experience these sessions, you need to contact us at the earliest.
Another feature of our OET/IELTS online coaching is the validity. Each of our sessions comes with extended validity that allows you to attend any session any number of times within the duration of the validity. No questions asked. You can also interact with the trainers during the sessions since all our sessions are both live and trainer led. This will give you the opportunity to glean never-before insights into the test and how it is marked – giving you the opportunity to learn more, learn more easily and score better.
All our training program come with our exclusive and unique Writing Evaluations. In these, the trainers individually evaluate each learner's writing tasks and provide them with valuable feedback and comments to help them understand not just where to improve but also how to improve. In addition to this, there are also one-to-one sessions with the trainer which the learner can take advantage of anytime during the period of the validity irrespective of whether the learner has completed his training.