Reading Time:
3
minutes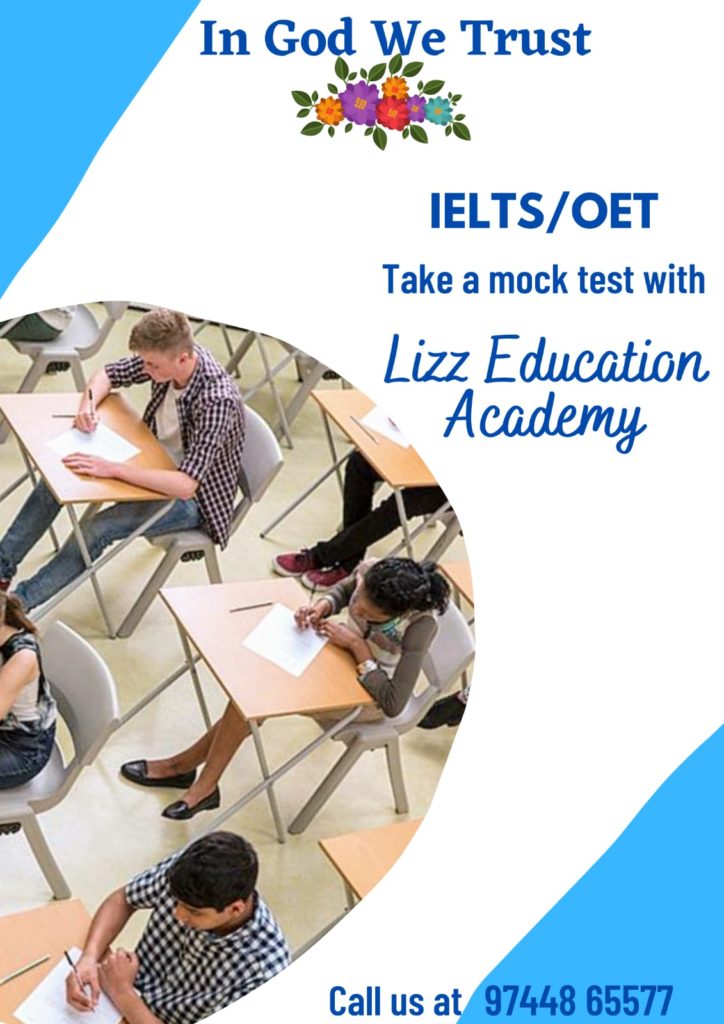 Mock test is one of the best coaching practice for IELTS or OET. A coaching which includes regular Mock tests has always been the best. All these years, I have been training students for exams like IELTS or OET, mock tests resembling the real time tests were the best tool to improve the scores. It always took a little effort for the students to understand the importance of the mock tests. It was because our educational system somehow molds our children to develop a kind of fearful concern towards any examinations.
However, Mock tests play a vital role in the preparation of IELTS or OET. The whole idea is to be completely confident and aware of the pattern of these examinations. This familiarity with real time test practice turns out to be the most useful contrivance. Taking an IELTS or OET is probably the first time a candidate coming across an international examination. So getting familiar with the pattern of the test is one of the keys to achieving your optimum scores.
With mock tests, teachers constantly get a chance to monitor student growth and adjust instruction to ensure continuous improvement. They find it easier and more predictable to progress towards meeting the standards on achieving the required scores eventually. By understanding exactly what their students know before and during instruction, educators have much more power to improve student mastery over the language than if they find it out after the course has been completed. Such practices could be considered as the best IELTS/OET coaching practice require proper and informed guidance and mentoring as we do at our institute.
The secret strength of a mock test lies in the critical information it provides about student comprehension throughout the process of practice and the opportunity it gives educators to provide students with timely and action-oriented feedback and to change their own behavior so that every student has an opportunity to learn and re-learn. Similarly, the students who are performing on the outer edges of the normal curve—the struggling and the gifted—particularly benefit from formative assessment. These students have learning needs that are often unique and specific, and the teacher needs timely data in order to address them. Thus regular mock tests ensure that teachers are able to provide timely remediation.
When mock tests are well implemented, there are a number of positive results to it
 1. Defined learning Milestones
Monitoring student progress regularly helps keep learning goals top of mind, so students have a clear target to work towards and teachers can help clear up misunderstandings before students get off track. Using regular mock tests as best IELTS/OET coaching practice would allow us to do it effectively.
2. Encouraging Best Practices with Increased Effort
Looking at the performance of their candidates in the mock tests helps teachers collect information that indicates student needs. Once teachers have an understanding of what students need to be improving their scores, they can create a rigorous learning environment that will enable every student to grow. Providing students and teachers with regular feedback on progress toward their goals is the main function of mock test. It also helps students to bring down the gap between their current levels of language and required scores.
 3. Enhance Candidate's Motivation
Because Mock test involves setting desired scores and measuring the progress towards those goals, motivation increases. When students have a focus on where they're aiming, results skyrocket. As descriptive feedback highlights gaps in understanding and specifically inform students on how they can improve their learning rather than listing what they got wrong, thus facilitating a reciprocal learning process between teachers and students.
4.  An Experience of best Personalized and Self-Regulated learning
A close analysis of mock test data allows the teacher to examine their instructional practices in order to determine which are producing the desired results and which are not. Some that work for one group of students may not work for another group. Teaching students the requisite skills to monitor and take responsibility for meeting their goals creates self-regulated learners.
5. Data-Driven Decisions on Attending the IELTS/OET Test  
However, these exams are expensive. You pay a lot of your hard earned money each time you sit for this tests. So why not attend a mock test before you go for the real test. So that using the data gathered from the mock test empowers teachers to make sound, informed decisions that are grounded in data.
This is why we insist on saying Mock test is one of the best IELTS/OET coaching practice.