Reading Time:
3
minutes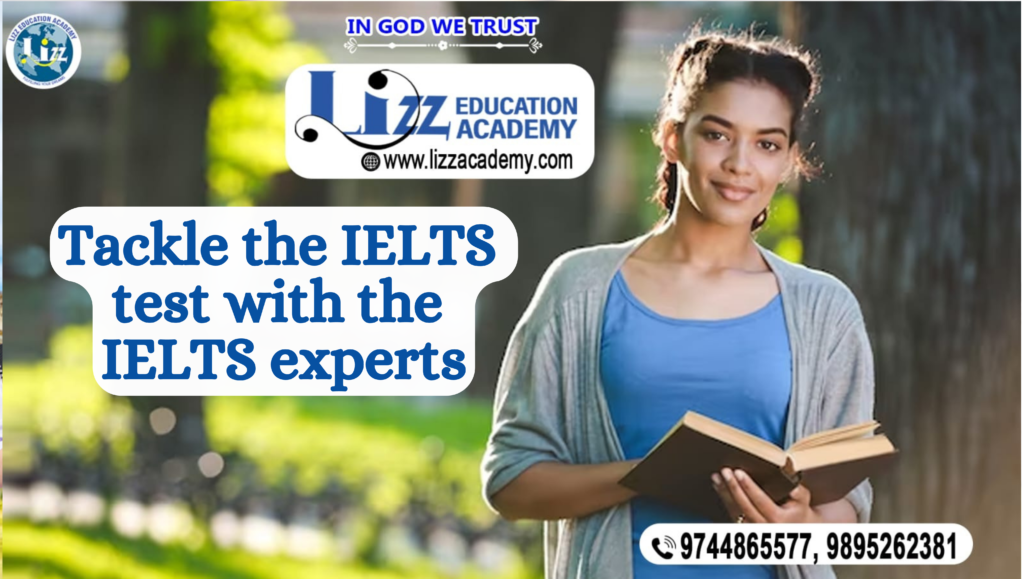 Tackle the IELTS test with the IELTS experts.
Lizz Academy is the best choice for online or offline IELTS Coaching in Kerala. We gained this reputation by enabling all the candidates, who wrote the exam through us, win it. We are dedicated in training aspiring candidates who are looking for abroad jobs and higher studies. We provide everything required to help our candidates prepare for the test, by providing them with sufficient practice and confidence to enable them to score high on the IELTS test.
The IELTS is an excellent way for non-native English speakers to demonstrate their language proficiency and achieve their academic and professional goals. We at Lizz Academy, one of the finest IELTS coaching centres in Kollam, Kerala are committed to help you achieve your academic and career goals.
The International English Language Testing System (IELTS) is the most widely recognized English language test for non-native English speakers.
We provide latest course material, regular mock exams, and a friendly teaching environment for each and every student that comes to us. Our learning processes are built with the integrated use of strategies to increase the effectiveness of teaching and learning in the classroom. You will feel comfortable with us as we take care of all academic requirements like essays and assignments. We offer personalized attention to each student. We are capable of catering to the needs and requirements of our students by offering comprehensive course materials that include IELTS General and Academic Mock Tests, Flexible Timings and much more.
Online coaching
we offer online classes and tutoring sessions. This can be a convenient option for those who cannot attend in-person classes due to schedule or location constraints.
Individual coaching
The individual coaching includes personal speaking practice and writing training for students who are in need. If it is online, this type of coaching als involves attending classes in a virtual classroom with an instructor.
Group coaching
Group coaching involves attending classes with other IELTS test takers. This can be helpful for those who prefer to study with peers and benefit from group discussions and activities.
Teach exam strategies
 We train the students with test taking skills and exam strategies, such as time management, skimming and scanning, and effective note-taking. These strategies can help students to perform better on the test.
Encourage practice
We encourage students to practice regularly. This helps in building their confidence and thereby improving their performance on the test.
Some of the key benefits of choosing Lizz academy, one of the best IELTS coaching centre in Kerala include:
Expert instruction: We have experienced and qualified tutors who are experts specialized in IELTS and OET. They can provide personalized attention and recommendations to help test takers improve their language skills and achieve their desired scores.
Comprehensive curriculum: We have a well-designed and comprehensive curriculum that covers all aspects of the IELTS exam. This includes reading, writing, listening, and speaking skills, as well as test-taking strategies and tips.
Access to resources: We provide students with access to a wide range of resources and materials, including practice tests, and online resources. This can help students prepare more effectively and efficiently for the exam.
Individual attention: We provide individual attention to each student and help them identify their weaknesses and strengths. This can help students focus on areas that need improvement and develop strategies to improve their performance.
Motivation and support: We will motivate and support students throughout the preparation process. This can help students stay focused and confident, which can be critical for achieving a high score on the exam.
Realistic simulations: We provide realistic simulations of the IELTS exam, including practice tests and mock exams. This help students become familiar with the format and structure of the exam and develop effective test-taking strategies.
Choosing Lizz academy, one of the best IELTS coaching centre in Kollam helps provide students with the guidance, support, and resources they need in achieving their desired score on the IELTS exam. We are committed to meeting our students' expectations and working with them toward their success. We motivate all our students towards excellence, not only academically but also in every aspect of their lives.